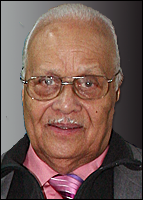 Rev. Oliver was born in Birmingham, Alabama in 1925, the fifth child in a family of nine children of Smith Robinson Oliver and Blonden Ernestine Oliver.

Graduated from Parker High School in Birmingham in 1942. Graduated from Wheaton College, Wheaton, Illinois in 1947 with BA in History. Served a small church in Birmingham (1947- 1948).

Was jailed by Bull Connor in 1948 for allowing an integrated group to hold a meeting in the church I was serving. Graduated from Westminster Theological Seminary, Philadelphia, Pa. in 1952 with BA in Church History, and in 1953 with Masters in Church History.